Nectar Group has a new opportunity for a Group Commercial & Business Development Manager (BDM) to join our global company. This is a fantastic career move for the right candidate with the prospects to travel extensively (up to 50% of the time) across our worldwide locations with our Head Office located in Romford, Essex (only 20 mins on the train from London Liverpool Street).
At Nectar Group, we are always on the lookout for top talent with experience in terminal management, port operations, dry bulk handling and maritime logistics.
Job Title: Group Commercial & Business Development Manager
Department: SMT (travel required)
London: Head Office (Romford, UK)
Position: Full time / Permanent
Reporting to: COO & Commercial Director
Hours: Monday-Friday 9:00-5:30
With immediate start, we are seeking a dynamic and dedicated BDM with a proven track record to effectively manage client relationships (both existing and new) as well as identify areas of growth, including new customers, partnerships, services, and products. A vital role within our global company, the Group Commercial & Business Development Manager shall be the focal point for clients (both existing and new) that use our ports and terminals with particular emphasis on Belgium, Sierra Leone, and Guinea.
We are looking for the right individual who will lead development and capture new business throughout the group, to further our corporate strategy, policies, and procedures.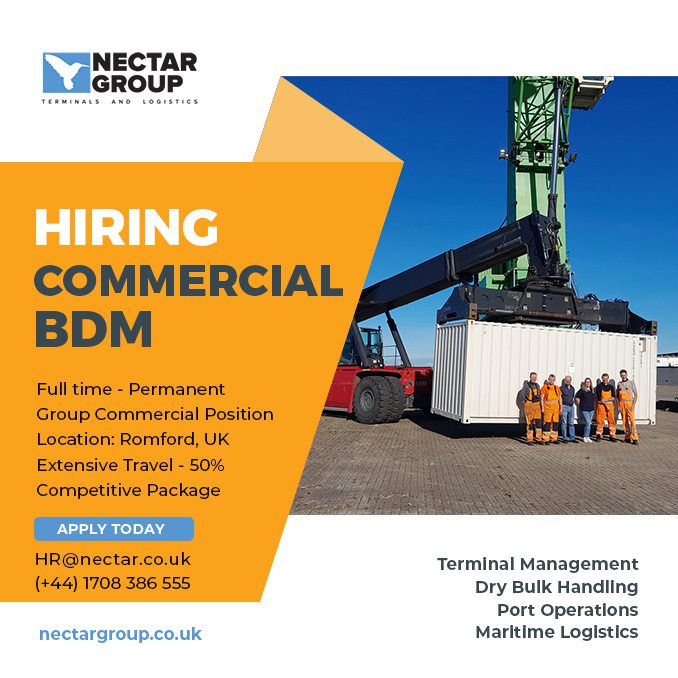 Areas of Responsibility:
➢ Create a wide network of national and international shippers / agents / forwarders etc. and actively canvass for new opportunities
➢ Actively manage existing client accounts and drive client satisfaction by building solid relationships and maintaining communication, manage new commercial enquiries
➢ Work closely with the individual Port Managers to ensure accurate costings of quotations and manage the co-operation between commercial and operational departments.
➢ Maintain accurate records of leads and manage CRM system
➢ Develop and maintain up to date costings for a number of different terminals in different countries
➢ Negotiate rates with Clients and Suppliers (where necessary)
➢ Lead, drive and support the development of individual revenue streams commercial activities, ensure appropriate resources, and adherence to policy, processes, procedures, and reporting requirements across all businesses. Identify weaknesses, risks within the business support improvement, whilst actively seeking to leverage strengths and opportunities.
➢ Lead, drive and support the development and capture of new business opportunities, prioritizing the expansion of our global footprint within new countries of operation and seeking to support the expansion of existing locations in conjunction with the appointed teams through development of new services, products and / or value-added services.
➢ Provide timely and accurate reporting to Nectar Group Senior Management
➢ Support and assist the commercial department
➢ Be willing to travel extensively to Belgium / Sierra Leone / Guinea and other development countries as and when necessary
➢ Be willing to devote time to developing client relationships and service providers
➢ Any other duties commensurate with the grade and level of responsibility of this post, for which the post holder has the necessary experience and/or training
➢ This job description to be reviewed every 12 months with active participation/discussion between the job holder and the General Manager.
Qualifications, Skills and Experience:
➢ In depth knowledge of the ports industry and terminal management, particularly Dry Bulk Terminals.
➢ Business Development Experience
➢ Commercial Shipping and experience of large projects.
➢ Knowledge and experience of terminal equipment, cargo handling equipment and cargo handling techniques.
➢ Excellent communication skills.
➢ Cultural sensitivity and awareness; with the ability to work and influence at a senior level, internationally, with partners, suppliers, and service providers
If you have in-depth knowledge of the ports industry, terminal management, and dry bulk handling with proven experience in commercial shipping and large projects management; we would welcome the opportunity to meet. As a worldwide, dynamic company, Nectar Group proudly offers excellent company benefits and extensive opportunities for career development.
Company Info:
Nectar Group is a leader in delivering specialist bulk handling solutions, worldwide terminal operations, and logistics management for over 50 strong years; thanks to our dedicated, diverse and enthusiastic global workforce.
We seek to be an ethical and progressive employer which encourages a culture of openness, creativity, and continuous professional development and which rewards the effectiveness and loyalty of our employees.
Apply at: HR@nectar.co.uk
(+44) 1708 386 555 (UK Head office)