Nectar Sierra Leone Bulk Terminal (NSBT) is pleased to announce the successful groundbreaking ceremony for the newly launched Berth Expansion Project at Queen Elizabeth II Port in Freetown.
The special day welcomed an impressive number of dignitaries and partners, marking the commencement of this new venture with the Guest of Honour at the event, First Lady Dr. Fatima Maada Bio, turning the sod.
With the expansion now underway, the project highlights will comprise of the design and construction of a new deep-water berth of 190m and enhanced quay space of 1.2 hectares (12,000 sq m) to facilitate a larger-class of vessel size to call at QEII terminal at Freetown (the largest natural harbour on the African Continent) as well as incorporating refurbishment of the existing berths; in partnership with Marine Consulting Engineers, Beckett Rankine and Civil Engineering firm, Eiffage Génie Civil.
The collaboration is part of steps being taken to meet international standards of the terminal in every operational aspect, with NSBT significantly investing in equipment and infrastructure at Sierra Leone's primary multi-user bulk and break-bulk port.
"The berth extension project marks the commitment, belief, and trust that Nectar and NSBT have in the future of Sierra Leone and its people. We are proud to partner with the Sierra Leone Port Authority to expand the capacity of the port and ensure that generations to come will benefit from it."

General Manager of NSBT, Jim Page commented
"Nectar Group is proud to invest in Sierra Leone in this strategic project that will be of benefit to the local community, the people of Sierra Leone and the economy in general for years to come. The berth expansion project has been 2 years in development, and it is a proud moment to see this project move to the next stage of construction. We would like to thank all our local and international partners on the work done to get to this point and for their ongoing support and trust in us and the work we do and look forward to handling new business when the berth is completed."

Chief Operating Officer, Chris Leonard
Nectar Group handles over 10 million tonnes of cargo each year, proudly employing over 400 people around the world, having operated in 156 different locations in 75 countries to date.
As a global market leader of specialist bulk cargo handling services at ports and terminals across the world; Nectar Group's historical connection in Sierra Leone can be traced back to the late 1980s, when the company founded bulk/bagging operations at Freetown under the USAID's Title II (Food for Peace) initiative, pioneered logistical savings for importers of rice and other basic commodities.
Since 2015, Nectar Group has supported the Freetown Port with substantial investment to develop the logistical capabilities, helping drive economic prosperity and noteworthy commercial advantages. Nectar Group and the Government of Sierra Leone have a partnership agreement of 21 years + 7-year option concession to further realise the area's full potential.
This ambitious project will not only strengthen our enterprise with Sierra Leone Ports Authority (SLPA) in relation to competitiveness and growth; it will additionally provide positive environmental and sustainability improvements following the berth expansion. The new berth will increase vessel discharging speeds and enable enhanced cargo handling capabilities.
Nectar Group and NSBT are fully committed to supporting and promoting new technologies and sustainability within shipping and port management; as we jointly drive innovation and future development to Freetown, Sierra Leone. This 3rd berth expansion programme promotes the country's aims and vision to advance the local economy into a major logistical hub for imports and exports in West Africa.
We are pleased to announce and kindly thank the many participants of the ground-breaking ceremony including;
First Lady of the Republic of Sierra Leone, Dr. Fatima Maada Bio
Minister of Trade and Industry, Dr Hinga Sandy
British High Commissioner to Sierra Leone, HE Lisa Cheney
The Deputy Minister of Transport and Aviation, Rex Bonapha
The Member of Parliament of Constituency 121, (where the project is implemented) Hon. Miniru Lansana
General Manager of the Sierra Leone Ports Authority (SLPA) and his Deputy, Dr Abdulai Fofana and Yakuba Askia Bio, respectively
SLPA Board Chairman, Manso Dumbuya
Beckett Rankine, Project Consultant, Gordon Rankine
Eiffage Génie Civil, Deputy CEO, Laurent Guilbaud
The National Commission for Privatization, Saffura Rogers
Event Chairman, Dr Julius Spenser
Nectar Group, Director, Guy Wilkes
General Manager of NSBT, Jim Page
A very proud occasion for our local NSBT team, Nectar Group, partners, and most importantly, the wider Freetown community. We extend our sincere gratitude to all those who kindly joined us on June 9th; offering their enthusiastic support as we cooperatively launched this exciting project, strengthen the relationship between Sierra Leone, the UK and promoting a future of longevity.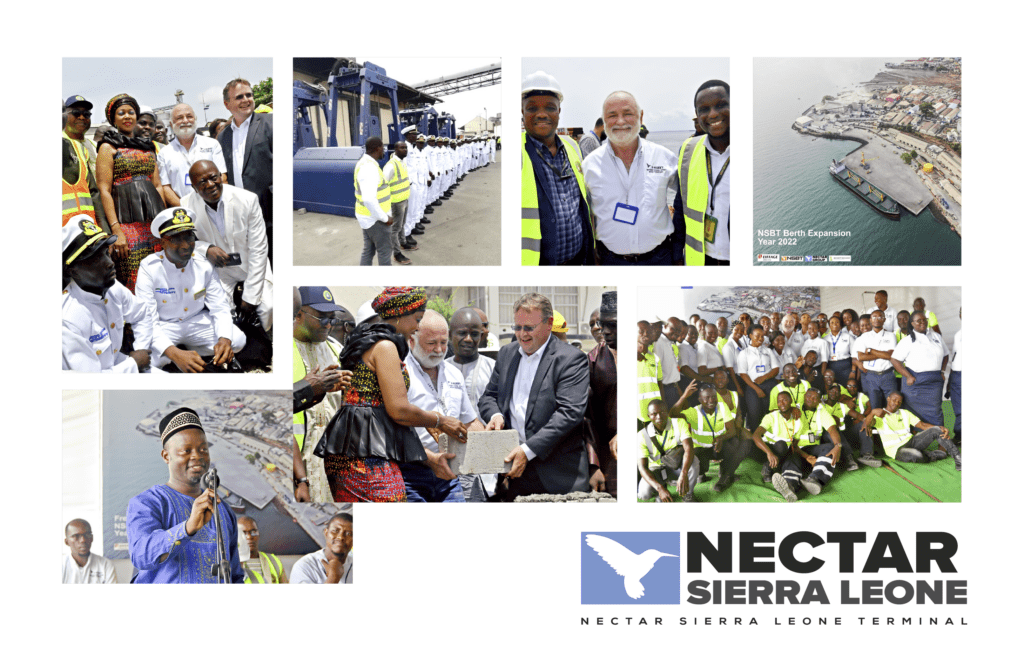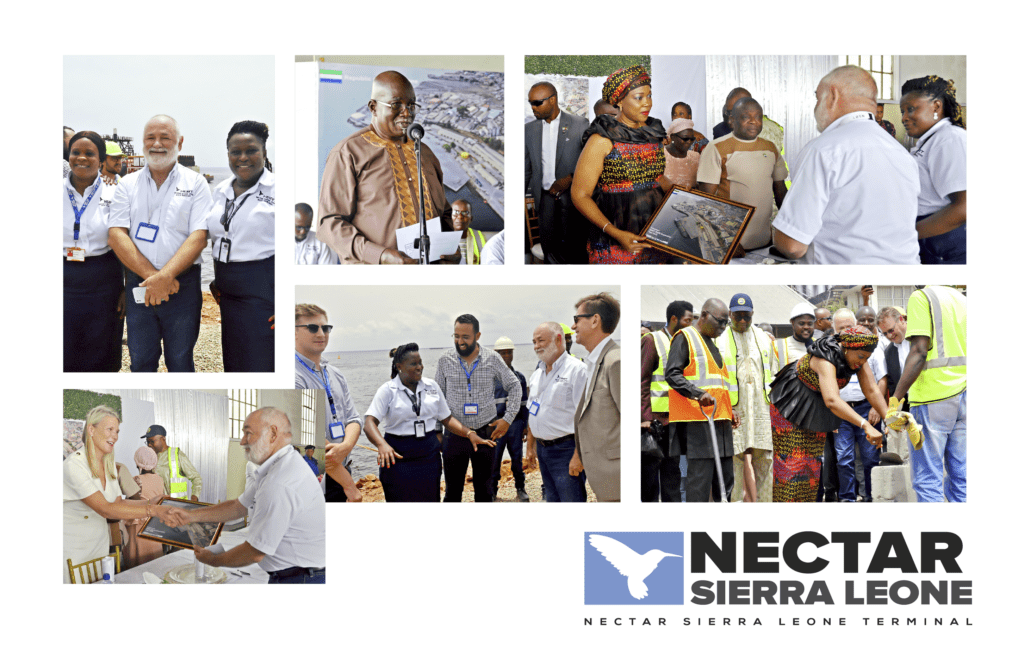 Follow this link to read more about Nectar Sierra Leone Bulk Terminal (NSBT).