Across our global teams, Nectar is stepping forward to show our commitment to Embrace Equity for #IWD2023. Celebrating our female colleagues and sharing their journeys.
Everyone wins when gender equality is forged and difference is valued and celebrated. Nectar Group is proud to support, share and cultivate meaningful connections across our global teams. For this IWD2023 we proudly share the passion, stories, achievements, and industry insight of some of the fantastic women within our organisation.
We believe that by focusing on inclusion, we are enabling not only diversity but also equality and equity to thrive as our people are able to feel confident to call out bias and address barriers to success.
Discover our Stories:
ANA DE BARROS has been a Nectar employee for over 10 years, working in Nectar Coal Handling Mozambique. She started as an HR assistant and is now part of the warehousing team.
Q: As a mentor, what would you say?
A: Focus, concentration, and determination to meet goals collectively.
Q: What are you most proud of?
A: I am proud to be part of one of the first organisations that welcomed several women as operators of heavy machinery, and to see the Group develop over the last 10 years.
---
ANDREA is the Assistant General Manager of the Worldwide Bagging Division at Nectar head office in the UK, starting her role progression over 9 years ago.
Q: Biggest workplace inspiration?
A: Our Nectar family! The passion, drive and sense of togetherness. Each and every team member has their own unique way to inspire.
Q: What would you say to women considering a career in our industry?
A: Do it! In a male dominated industry, be a part of the change. Inspire, speak up and be heard. It's an interesting place to be.
---
GLÓRIA is an Electrical Technician Assistant within Nectar Mozambique, Lda and has been with the Group for over 9 years.
Q: What advice would you give?
A: Be humble, honest and consistent in what you say and do. Dedication and seek daily knowledge to respond to new technologies that encompass the nature of your work. Take every oppournity to embrace training programmes.
Q: What would you say to women considering a career in our industry?
A: Encouraging women and saying that it is possible to work in the industrial sector, side by side with men, all you need is courage, willingness to learn, determination and focus.
---
KAREN has been a part of the Nectar Group Accounts team for over 6 years.
Q: Top advice to new starters?
A: Don't give up! The industry can be a real challenge, its takes time but it's worth the satisfaction.
Q: What are you most proud of?
A: Nectar has inspired me to become more professional, as well as being supportive to colleagues.
---
YVONNE has been on the NSBT (Nectar Sierra Leone Bulk Terminal) team for over 4 years; starting as an intern and swiftly progressing to Weighbridge Operator and now employed as an Account Officer.
Q: What are you most proud of?
A: Working in various sections within the company over the years, with the opportunity to learn, develop and progress into new roles.
Q: What would you say to women considering a career in our industry?
A: My advice to women considering joining the shipping/terminal industry, working for an organisation like Nectar and NSBT is that you are treated equally irrespective of your gender or race.
---
KADIJA is one of our newer members of the team, working at NSBT as Health & Safety Officer.
Q: What is your workplace inspiration?
A: Having a Team Leader that listens and understands have been my utmost encouragement as well as working within an organisation that values all input.
Q: What would you say to women considering a career in our industry?
A: I would say you have to be ready and willing to learn new ideas and that whatsoever you desire (as a woman) can be achieved with commitment and dedication.
---
ANA XAVIER is from Nectar Mozambique, Lda and began her career as an Accountant Assistant, and is now the HR Manager.
Q: What are you most proud of?
A: To be able to help create a healthy work environment, training and assisting to progress the skills of personnel and keeping my team motivated.
Q: What would you say to women considering a career in our industry?
A: Be perseverant, persistent, have clear objectives and vision of what you want to achieve. Work hard, keep learning and be part of the team, be confident, and always believe that you can do, have the strength and determination to succeed.
---
TÂNIA is one of Nectar's Electricians and Shift Leaders at the Beira Mozambique terminal.
Q: What is your biggest workplace inspiration?
A: I'm inspired by colleagues for their support, as we all contribute to developing the company, as well as my learning opportunities.
Q: What are you most proud of?
A: My courage, willpower and determination.
Nectar Group is proud to be supporting the future of the industry by encouraging more women into what has historically been a male-dominated sector. We recognise the valuable contribution all our team members make and encourage more women to join this ever growing and changing industry.
We will continue our commitment to doing all we can to champion this positive step forward. Whether working at our head office or across our global locations; each and every woman who contributes to our organisation is outstanding.
We thank all our participants for their valuable contributions and sharing their insight.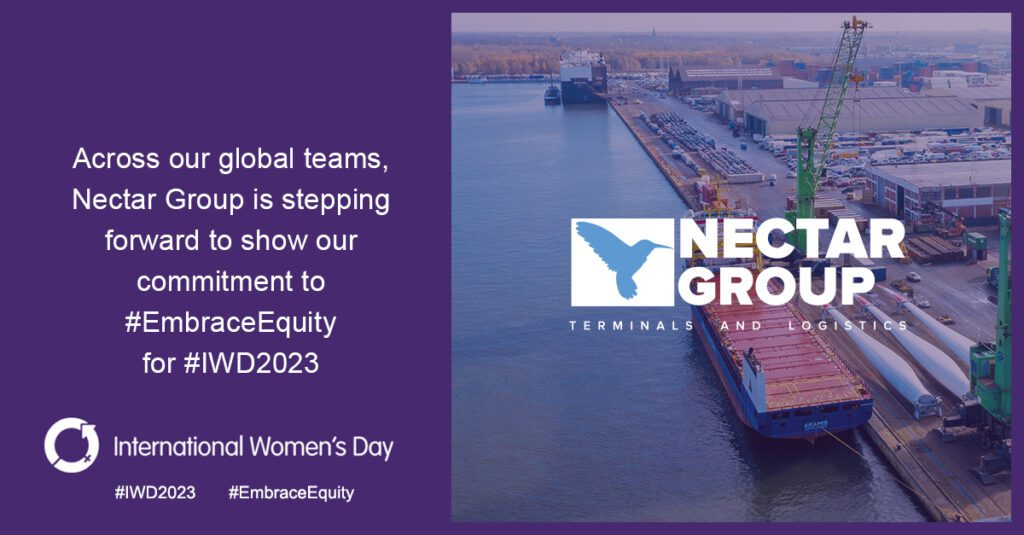 Working towards True Inclusion – Equity-based verses equality-based solutions
What does it all mean…
People who push for equality-based solutions to social issues may believe in impartiality, and that there should be no difference in services and policies.
However, equity-based solutions take into account the diverse lived experiences of individuals and communities, adapting services and policies according to these differences.
Equity is a long-term and sustainable solution and is a process for addressing imbalanced social systems. The goal of equity is to change systemic and structural barriers that get in the way of people's ability to thrive.
Around the world people are having meaningful conversations about why equal opportunities aren't enough, and why equal isn't always fair. People start from different places, so true inclusion and belonging require equitable action. If we truly believe in, value and embrace equity, then women are more likely to have access to what's required to succeed. So on IWD engage in those impactful conversations. Raise awareness. Help forge positive change for women.
If you truly believe in forging an equal and inclusive world, then you will truly believe in the need for the world to better understand the difference between equity and equality.
Stand with us to make it your mission to educate friends, family, colleagues, and the community on the need for equity.