Nectar Group is ready to meet these demands with safe, sustainable, and cost-effective handling systems.
Nectar hoppers are employed extensively in ports across Africa; making them an ideal solution for emerging economics and new enterprises; specialising in safe and reliable bulk discharging equipment for bulk commodities such as grains, fertiliser, clinker, gypsum, and other minerals. our range of hoppers are designed to balance environmental protection, with efficiently and profitability for customers to achieve operational advantages through market-leading technology and local knowledge.
Equipment can be tailored and designed to suit a range of operations and feature;
Highly manoeuvrable mobile units
Handle a multitude of dry / free-flowing bulk materials
Practical and efficient dust reduction solutions
Hydraulic clamshell discharge valve
Low noise and low carbon emissions
Produced in just 45 days from order and constructed onsite
Easy to access for maintenance
Ongoing support by Nectar's local and international team of technicians
The world is changing rapidly, and many companies need to upgrade or replace their existing bulk material handling installations with increased cost sensitivities. Driven by the requirement to switch more efficiently and to start up projects quickly; Nectar bulk hoppers focus on delivering utilitarian functionality, performance, and adaptability based on industry-proven technologies.
Look out for Nectar Group in the upcoming issue of DCI Dry Cargo International. Featuring Hoppers. Click here to read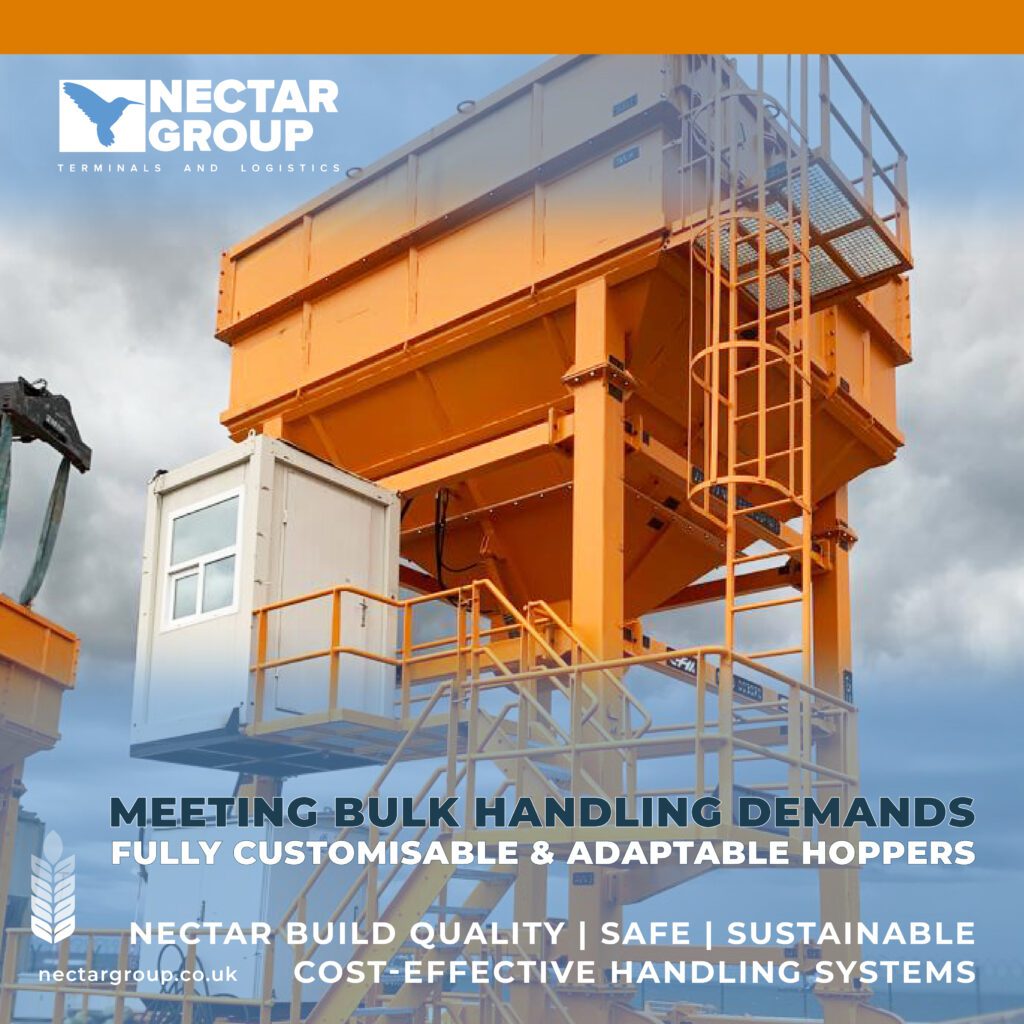 Nectar's Worldwide Bagging division continues to deliver state-of-the-art mobile bagging solutions and cargo handling equipment such as Bulk Hoppers, Conveyors, and Remote Release Grabs to our diversified global client base. Nectar Group is expanding its worldwide maintenance support programme for all bulk handling equipment, investing in new technologies, asset life cycle management, QHSE, and local training initiatives. We offer our clients unparalleled expertise in safely handling a wide range of sensitive agricultural materials, including high value combinable crops, fertiliser, feed, and supplements.
For more information. (+44) 1708 386555 or commercialteam@nectar.co.uk