Nectar Group is pleased to share that construction work is taking shape at the expansion programme at NSBT in partnership with Eiffage Génie Civil and Beckett Rankine. The new 3rd berth at QEII terminal is a critical piece of infrastructure which will facilitate a larger-class of vessel size to call at the Freetown terminal, accommodating vessels of 225 meters and 13 meters draft.
His Excellency President Dr Julius Maada Bio of Sierra Leone addressed the House of Lords on November 21st, sharing his vision and leadership strategies that keep Sierra Leone comparatively stable during the COVID-19 pandemic and within the current global economic crisis.
President Bio made reference to his government's impressive achievements in the education, empowering girls, improving school governance, building more school infrastructure, expanding school feeding, as well as much needed investment in critical sectors such as agriculture, health, infrastructure and the extractive sector.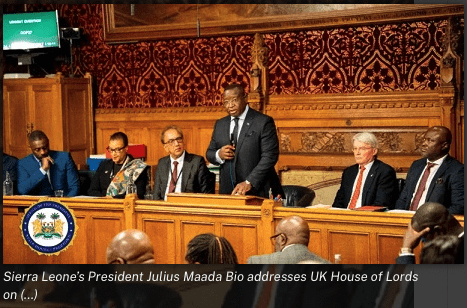 "The Port of Freetown, as Africa's largest natural harbour, has long played an important economic role. Strategically positioned as one of the gateways of international trade not only for Sierra Leone but similarly for the rest of West Africa. Our Group has an extensive history with Freetown Port, and I believe in recent years we have demonstrated our commitment to investing in Sierra Leone at a very significant level. This has been achievable through successful collaboration with stake holders, particularly our dedicated partners Sierra Leone Ports Authority, Ministry of Transport and National Commission for Privatisation. This new development will enable the growth of the terminal, increased infrastructure and provide higher levels of service to the wider economy and will be here for many generations to come".

Guy Wilkes, Director of Nectar Group commented.
The project is currently well underway and as of October, the Combi wall piling has been completed and the West & East Sheet pile walls are now in place. The anchor wall is due to be finalised shortly after which Revetment installation, dredging and reclamation works will commence.
Nectar Group and NSBT are fully committed to supporting and promoting new technologies and sustainability within shipping and port management; as we jointly drive innovation and future development to Freetown. This 3rd berth expansion programme promotes the country's aims and vision to advance the local economy into a major logistical hub for imports and exports in West Africa.
NSBT is a subsidiary of Nectar Group Limited, a specialist privately owned bulk handling and terminal operator. Nectar Group's history in Sierra Leone can be traced back to the 1980's and it has been operating the bulk and break-bulk terminal at the Port of Freetown since 2015, following a successful international tender. The past six years has seen substantial investments, improving the terminal's facilities and productivity to support Sierra Leone Port's Authorities desire to further progress the port. With works well underway, the project is due for completion by the middle of 2023.