Nectar Group is proud to integrate our social values initiatives throughout our global operations, with increased enthusiasm as we mark our 50th anniversary. 
Nectar Group plays an active role in the communities in which we operate, helping to deliver social value commitments not only for ourselves, but also for our customers. Our global colleagues are encouraged to work with us to support local causes, care of the environment, volunteer and make a difference.
We are pleased to share another great initiative from our teams in Nectar Mozambique and Nectar Coal Handling Mozambique, supporting the non-profit organisation OREBACOM. This community-based rehabilitation association has been working since 2008 to support people with disabilities in seven communities across the city of Beira. This far-reaching organisation has assisted over 923 individuals; as well as providing vital education, training, early identification and intervention within schools and local communities, family support, rehabilitation, physiotherapy, inclusive playgroups, and much more.
"I found it very humbling to meet and listen to the stories of the volunteers and beneficiaries of the work of OREBACOM. I am very pleased and proud Nectar has decided to mark our 50th Anniversary by supporting the remarkable and life-changing work of OREBACOM in Mozambique, by donating much needed equipment to improve the quality of life and to assist with the rehabilitation of many children and adults with disabilities in the local community in Beira."

Nectar Group Managing Director, Chris Boughton commented
The presentation event was attended by Maria Fernanada de Alexandre Manuel (OREBACOM – Coordinator), Mr. Alberto Zeca (Husband of the Secretary of State of the Province of Sofala), Dr. Joaquim Mesquita and the OREBACOM team. Items donation by our local Nectar team, included medical and physio equipment such as; wheelchairs, walking canes, crutches, gym bikes and mats, adjustable bed, laptops and children's school supplies.
"On behalf of NGL, NCHML and NML; I would like to express my special thanks to Edson M, Domingos and Antonio M, for all the arrangements that went into the event today and your continued support. The donations were very well received by the Husband of the Secretary of State Mr. Alberto Zeca and the OREBACOM Team. I would also like to thank Ivone, Ana, Mariza and Edson B for your support and time."

Terminal Manager (Beira), Bruce Taylor added
We thank OREBACOM for their time and insight into their valuable work within the community. Nectar looks forward to working with OREBACOM in the future and we extend our appreciation to our local colleagues.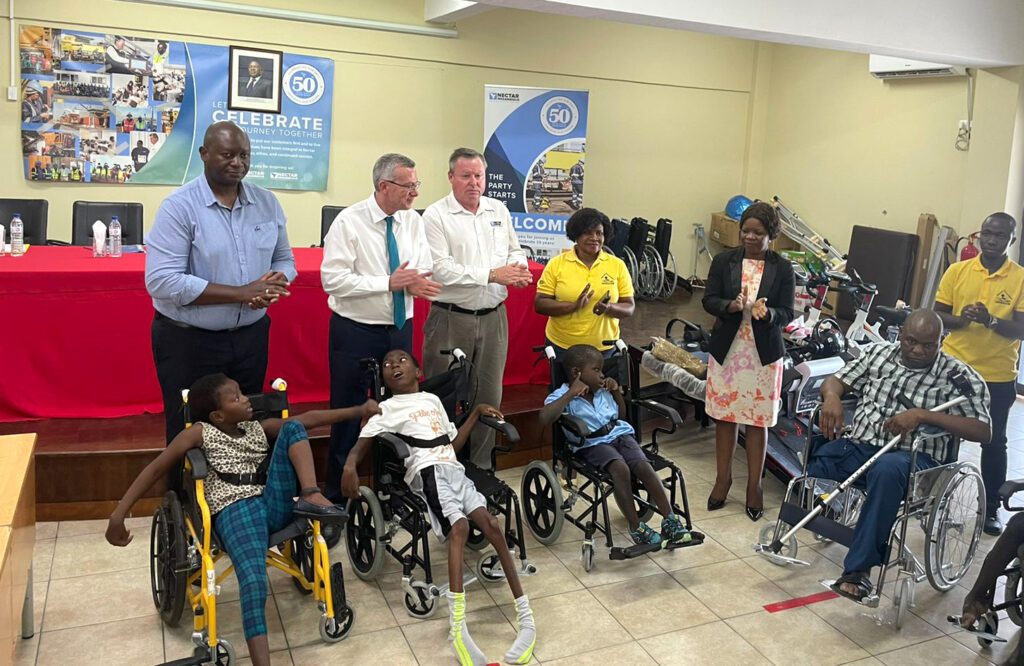 Nectar's Social Values Commitments
Our teams in Mozambique and across our global locations are focused on developing partnerships with community leaders, including local government, trusts, charities, schools, and those who work in the emergency services sector. Over the decades, Nectar has developed numerous strong long-term relationships within the communities where we work – however there's more we can do.
Our workforce, now and in the future, are increasingly interested in giving back to their communities, and we endeavour to offer them that opportunity. We are ever grateful to our teams for their dedication, time and focus on making positive impacts.