On December 12th, Nectar Cargo Handling Belgium received and handled the first vessel call for estuary container feeder vessel 'Polybotes' from the PortConnect fleet.
Utilising Nectar's multi-purpose Gottwald 5506 port crane, the team efficiently discharged some 40 cargo containers arriving to the port, transported from Antwerp and Zeebrugge.
The Port of Ostend and partners are pleased to announce that from December onwards, PortConnect fleet of inland vessels will be calling at the port every Monday. This new estuary barge service will support frequent inland shipping requirements and cargo handling for industries in the vicinity of Ostend, neighbouring ports and further afield via the Belgian hinterland.
"Nectar is delighted to be handling the inaugural barge service in partnership with the Port of Ostend and PortConnect that connects the ports of Antwerp, Zeebrugge and Ostend. The service represents an efficient, cost effective and low carbon way to service our neighbours in the region and promote industry through green initiatives by reducing CO2 emissions. The team are thrilled to play a part in the success of this new concept, drawing on 50 years of experience working in ports globally."

Guy Wilkes (Director) Nectar Group added,
These new routes and cargo handling capabilities will specifically address the need for coastal logistics between Antwerp, Zeebrugge and the Port of Ostend. The PortConnect fleet counts 5 estuary vessels up to 400 TEU, with impressive agility to meet the demands of increasing local requirements.
As the only dedicated Stevedore in the port for handling Lift on/Lift off (LoLo) operations, Nectar offers a comprehensive terminal service; handling all breakbulk, bulk, project cargo and container handling with dedicated local management.
The modal shift is focused on green transportation by waterways to reduce dependency on road logistics with significant advantages; estuary shipping is flexible, cost effective, and time efficient with impressive environmental benefits. A single voyage significantly reduces the number of trucks on the roads.
"The port authority's efforts regarding the modal shift are clearly visible. This modal shift towards more sea transport is necessary. Two of the important reasons are the traffic jams in Belgium and the pursuit of a better environment. This proves that the growth of the Port of Ostend and ecology go hand in hand."

Dirk Declerck, CEO Port of Ostend, commented,
"We continue to take steps in the field of diverse yet specialised further development of Port Oostende. There is therefore an active focus on every additional maritime traffic that fits into what we do. A fixed feeder not only contributes to employment and such additional traffic, but we also give shape to our objective to focus on multimodal transport."

Charlotte Verkeyn, Chairman of the Port of Ostend, added,
Nectar Group is pleased to be partnering with Port Ostend and are fully committed to supporting and promoting new technologies, sustainability, and blue economy, as we jointly drive innovation in our industry.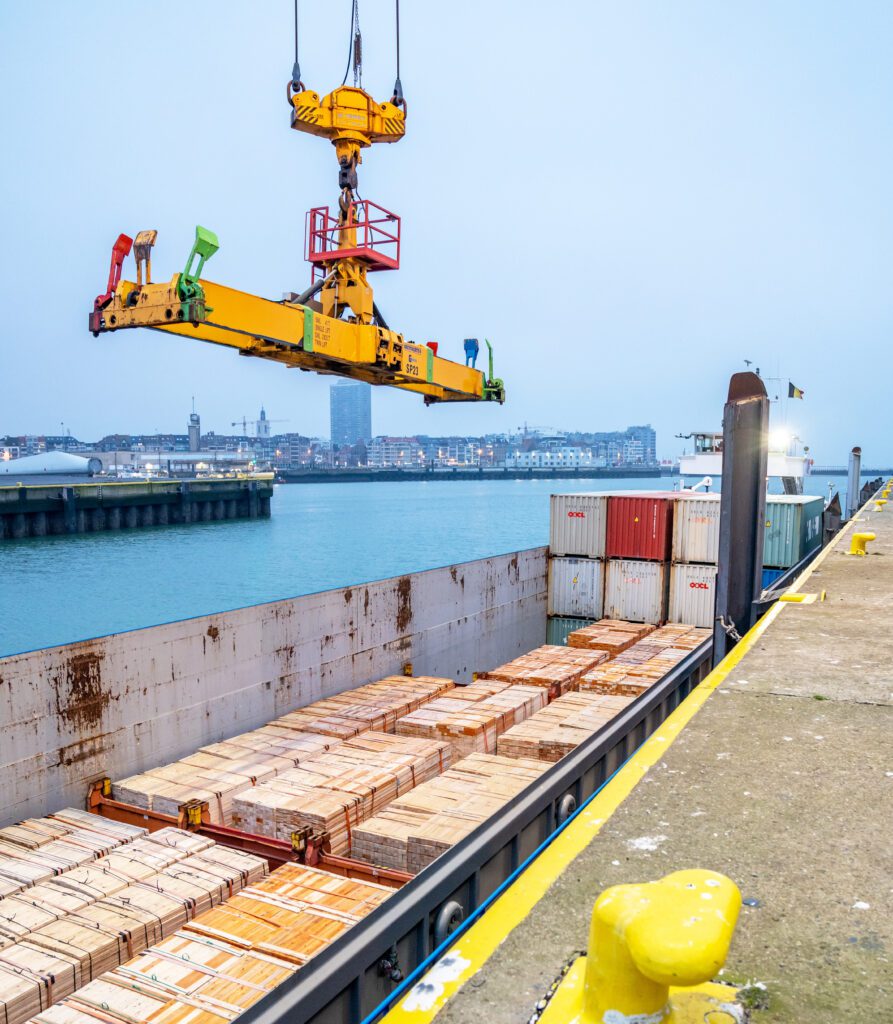 Photo credit @ Port Oostende
To find out more about Nectar Bulk Handling Belgium Services and Capabilities.