Award-winning Mobile Technology
Specially designed and constructed dual-line bagging unit housed in a standard size ISO 20 ft steel container 20' x 8' x 8'6''. 
The Compac M140 Mobile Bagging Unit is a specially designed and constructed bagging unit housed in a standard size ISO 20ft steel container measuring 20' x 8' x 8'6" (lxwxh). The Compac M140 can be handled with approved container handling equipment.
The Compac M140 contains two side by side bagging lines. Each bagging line is designed to provide bagging of free flowing commodity with a density of 0.70 to 1.25 tonnes per cubic meter at a speed of up to 20 bags per minute per line for 50 kg bags. This equates to approximately 140 MT per hour per bagging machine.
Actual performance will depend on the type of product that is bagged, the speed at which the equipment is fed with product, the efficiency of the operators and how quickly the bagged cargo is taken away from the
machine.
Mobile Bagging Unit Components
Discover the technology behind our equipment.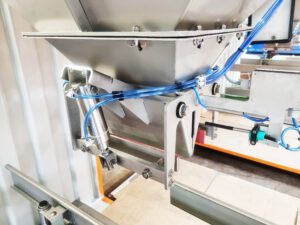 UNBEATABLE WEIGHT ACCURACY 
The COMPAC™ weighing system has duplex scales, each mounted on three OIML C3-rated load cells. This significant feature allows for continuous high-speed, accurate weighing as one scale can be filling a bag whilst the second scale continues with the next weighment. The signal from the load cells is analysed 1,600 times per second, providing the controller with accurate control of each weighment. This allows the system to identify variations in the product such as particle size, consistency and flow characteristics and adjust the weighing formula automatically. Vibration and other mechanical interference are automatically eliminated by dynamic digital filtering. 
The weighers are certified by the Dutch Weights and Measures (NMI). Certification no. T2971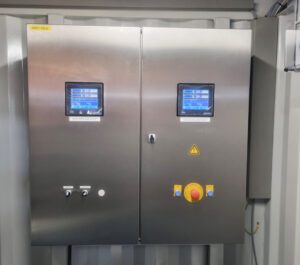 Stainless Steel control box to house electronic components, controls and switch gear.  Equipped with an internal cooling fan and filter.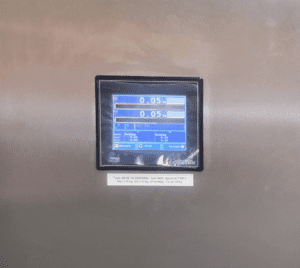 Control panel for individual bagging lines. Features Penko Multi-channel Flex Control Panel with the following functionality; in-flight autocorrect, zero-tracking, tolerance control, dynamic digital filtering, true I/O architecture with 16 inputs and 32 outputs per line, password-protected calibration and LED touch screen.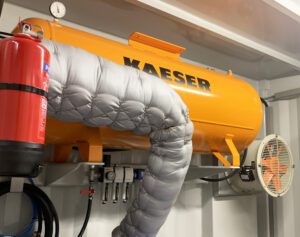 Direct drive 2-piston compressor with wall-mounted air tank.  The air tank has a 250-litre capability, manual drain, over-pressure safety valve and pressure gauge.  The compressor has a working pressure of 5-6 bar and direct online start.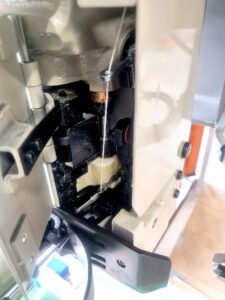 High-speed stitcher fitted to a stainless-steel roof-mounted, height-adjustable column, complete with a conveyor control box. Features include; single needle double thread chain stitch, adjustable stitch length 7-10.5mm to suit all bag types, pneumatic operated thread cutter, low maintenance splash lubrication system, variable speed pulley and automatic actuation with an infra-red sensor.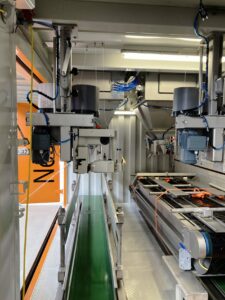 Two Heavy Duty Stainless Steel belt conveyors - Slider bed type. Each is equipped with a maintenance-free drum drive motor with an anti-slip layer. Adjustable bag guiding boards ensure proper movement of the filled bag. The motor and tail pulley head are both equipped with stainless steel belt adjustments.  Endless PVC belts ensure smooth movement.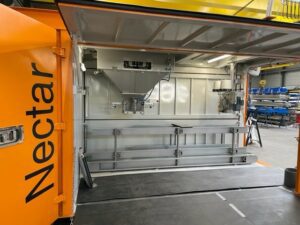 Engineered for efficient access and safe maintenance, flagship COMPAC™ models have three integrated ladders for roof access. Seven door openings, enable easy access to all weighing lines whilst promoting safer working practices.  In operational mode side doors increase the work area to a total of 16 sqm.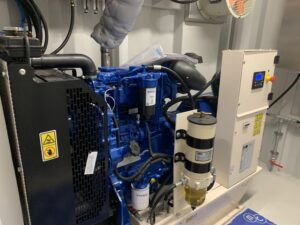 Individual compartment to house compressor and control units as well as optional generator setup (if required). Stainless steel construction for all controls and switch gear, equipped with an internal cooling fan and filters.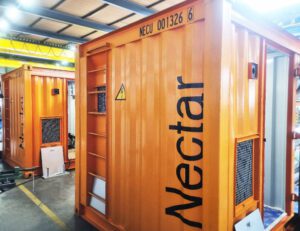 NECTAR'S PROVEN BUILD QUALITY & TECHNOLOGY 
Alongside significant savings in operational costs, Nectar's build quality is designed with the highest-grade materials to withstand all dynamic loads — as well as the wear and tear of busy bulk terminals. Constructed of heavy gauge shot-blasted SA2.5 steel and coated with a unique blend of epoxy primers and finished with a distinctive orange polyurethane marine grade paint to protect against corrosive commodities and adverse weather conditions. Engineered for efficient access and safe maintenance, flagship COMPAC™ models have three integrated ladders for roof access. 
Why Select Nectar Bagging Equipment?
TAILOR-MADE BAGGING AND LOGISTICS SOLUTIONS
DUTCH WEIGHTS AND MEASURES CERTIFIED
140 METRIC TONNES PER HOUR DESIGN CAPACITY PER BAGGING UNIT
ACCURATE WEIGHTS +/- 0.5%
IDEAL FOR FREE-FLOWING CARGOES INCLUDING FERTILIZERS, PULSES, GRAINS, RICE, SUGAR ETC.
AWARD WINNING SERVICE AND PRODUCTS
Our Full Range of Bagging Equipment
Nectar offers a comprehensive range of bagging equipment, which can be customized to your requirements.
Ideal for dry, free flowing, non-bridging commodities, our award-winning machinery provide unbeatable weight accuracy. They are fitted and manufactured to adhere to the strictest European safety standards
1 Ashton Gate, Ashton Rd.
Harold Hill, Romford
Essex. RM3 8UF
    commercialteam@nectar.co.uk
   Job Opportunities: HR@nectar.co.uk
   +44 (0)1708 386555
* indicates a required field