Fixed Single line 50 kg bagging
Specially designed to fit a 10ft steel container. This single-line bagging unit is ideal for compact locations requiring minimal operators.  Employed in port warehouses, storage facilities and depots. 
The Impac M60 allows complete compatibility with a variety of applications. Typical uses are  to provide bagging facilities for an existing plant, in port warehouses, storage depots and requires minimal operators.
The mobile self contained design allows movement  of facility between multiple production or storage sites.It is designed to bag 25 and 50 kg bag with minimum labour requirements for a discharge speed up to 60 tph or 20 bags per minute. This of course depends of products characteristics and bagging environment. Impac M60 is suitable for bulk commodities of particle size of 25 mm.
The high quality components are made from 304 stainless steel.
Discover the technology behind our equipment.
The Impac M60 Mobile Bagging Unit is a specially designed and constructed bagging unit housed in a standard size ISO 10ft steel container measuring 10' x 8' x 8'6" (lxwxh). The Impac M60 Bagging Equipment can be handled with approved container handling equipment for easy manoeuvrability.  
This machine contains a single line unit and is designed to provide bagging of free-flowing commodities with a density of 0.70 to 1.25 tonnes per cubic meter at a speed of up to 20 bags per minute for 50kg bags. This equates to approximately 60m per hour per bagging machine.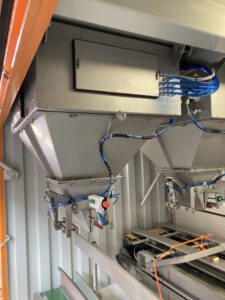 One accurate, electronically controlled, Stainless Steel double net weigher. This is equipped with two Stainless Steel dosing and metering valves, two weigh bunkers, one bird-beak type antenna operated bag-clamp, operator control buttons and pilot lamps.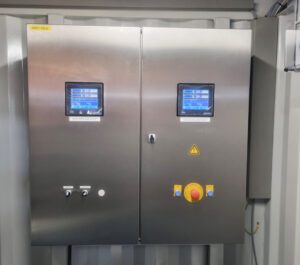 One Stainless Steel control box housing the electronic components, i.e., control units, counters, safety devices and control panels.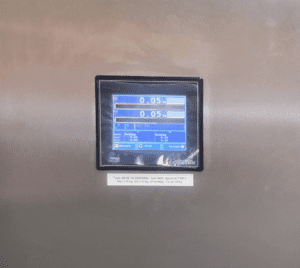 Control panel for individual bagging lines.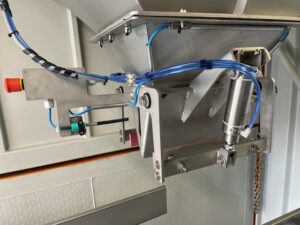 One stitcher with a semi-automatic control system. Yarn coil holders and pneumatic yarn cutting system included. Mounted on Stainless Steel column.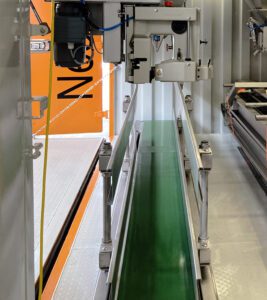 One Heavy Duty Stainless Steel belt conveyor (Sliderbed type). This is equipped with a maintenance-free drum drive motor with an anti-slip layer. Adjustable bag guiding boards ensure proper movement of the filled bag.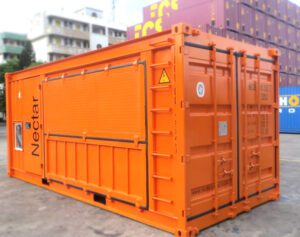 Two front doors.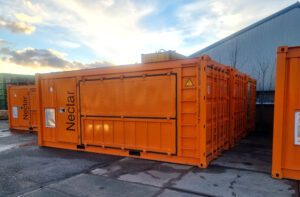 Each Nectar container is constructed of heavy gauge steel and coated with a fertiliser-resistant coating of 120 microns and an anti-slip floor. One internal fluorescent lighting set and one external flood light to enable 24 hour operations. 
Why Select Nectar Bagging Equipment?
TAILOR-MADE BAGGING AND LOGISTICS SOLUTIONS
DUTCH WEIGHTS AND MEASURES CERTIFIED
140 METRIC TONNES PER HOUR DESIGN CAPACITY PER BAGGING UNIT
ACCURATE WEIGHTS +/- 0.5%
IDEAL FOR FREE-FLOWING CARGOES INCLUDING FERTILIZERS, PULSES, GRAINS, RICE, SUGAR ETC.
AWARD WINNING SERVICE AND PRODUCTS
Our Full Range of Bagging Equipment
Nectar offers a comprehensive range of bagging equipment, which can be customized to your requirements.
Ideal for dry, free flowing, non-bridging commodities, our award-winning machinery provide unbeatable weight accuracy. They are fitted and manufactured to adhere to the strictest European safety standards
1 Ashton Gate, Ashton Rd.
Harold Hill, Romford
Essex. RM3 8UF
    commercialteam@nectar.co.uk
   Job Opportunities: HR@nectar.co.uk
   +44 (0)1708 386555
* indicates a required field