The ports of Cuxhaven, Eemshaven, Esbjerg, Humber, Nantes-Saint Nazaire, and Oostende have joined forces to speed up the green transition to meet Europe's offshore wind deployment targets.
Nectar Group is pleased to share the latest industry news from Belgium and Offshore Wind: European Offshore Wind Port Declaration – signed.
The Esbjerg Declaration from May 2022 saw Belgium, Denmark, Germany, and the Netherlands pledge to deliver a minimum of 65GW of offshore wind energy capacity by 2030 (and 150 GW by 2050). Now, the six largest European wind ports will be collaborating on an operational and practical level to help bring new offshore wind capacities across Europe as smoothly as possible.
"[…] In other words, Europe aims to install well over five times as much offshore wind in the next eight years as we have built during the previous twenty years. This target puts great pressure on European wind ports because there is currently not enough port capacity to install all these offshore wind farms by the deadline," said the signatories of the European Offshore Wind Port Declaration in a press release.
To support this green transition, the parties will share best practices, e.g., using the digital twin to increase handling capacity without physically enlarging their harbours. They will also collaborate on getting around the issue of, e.g., space shortages, such as when one port only has space for half a project, another may have room for the other.
Dirk Declerck, the Port of Oostende's CEO, said, "This collaboration is important, because we make each other stronger. Likewise, it is very important for the green transition that we exchange knowledge and experience and share professional information with all stakeholders in the offshore industry, so we can create a professional platform."
The European Offshore Wind Port Declaration was underwritten in the presence of Isabelle Ryckbost, Secretary General of the European Sea Ports Organisation (ESPO), who said, "The importance of ports in Europe should not solely be calculated in tonnes, but should also be assessed in terms of their contribution in the deployment and supply of energy, in particular renewable energy. I am very excited to see these six important wind energy ports joining their efforts and leading the way in view of reaching the EU offshore goals. Through cooperation it will be easier to face the identified headwinds."
The Role of Offshore Wind Ports
Ports are central to the development of offshore wind. Offshore wind today represents 3% of the EU power demand. They play a key role for the local supply chain, logistics, handling and supporting infrastructure (e.g. storage of components). Ports are where operation and maintenance of offshore wind farms are run, where all offshore wind turbines and other equipment get transported, and where floating turbines are assembled. And they will have a prominent role in the production and distribution of renewable hydrogen.
Europe's ports today support the deployment of 3 GW of new offshore wind farms every year. By 2030 they need to be supporting the deployment of 25 GW of new offshore wind farms and servicing almost 15,000 turbines every year. As part of this energy transformation, ports are growing their businesses to support offshore wind energy in increasingly sophisticated ways. Ports actively contribute to cost reduction and efficiency.
To find out more about Nectar Cargo Handling Belgium capabilities and how we support the offshore wind industry; click the links below or connect with Nectar Group expert. 
+44 (0)1708 386555 / commercialteam@nectar.co.uk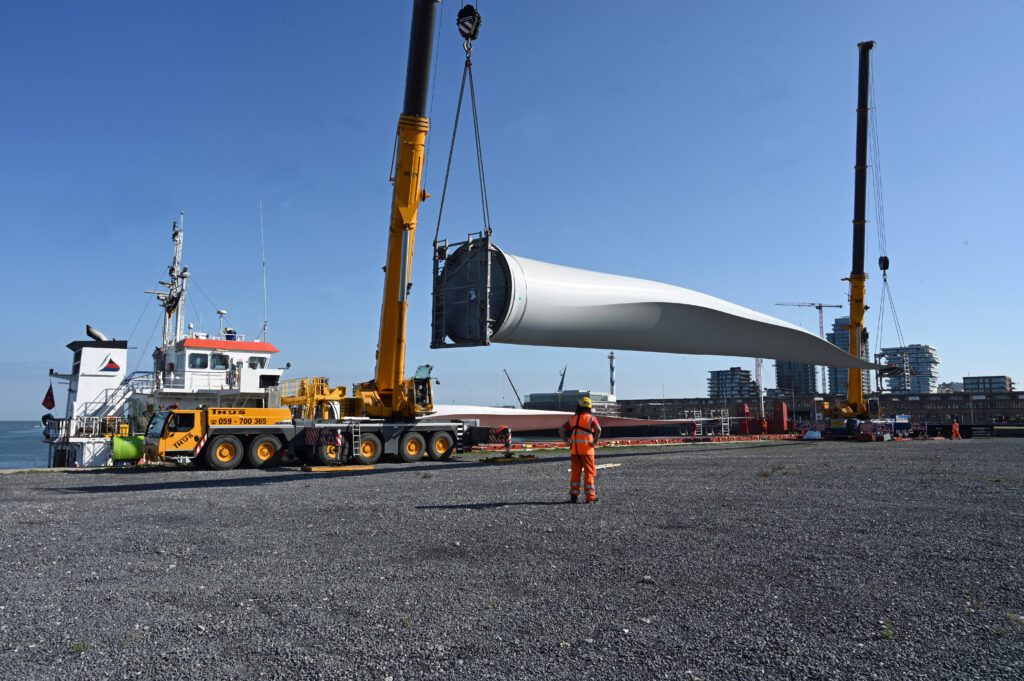 Photo credit @ Port Oostende
News Source: © Baltic Transport Journal 2023
News Source: © OffshoreWIND.biz
To find out more about Nectar Bulk Handling Belgium Services and Capabilities.