COMPAC M140 for Argibulk & Fertilizer
This COMPAC 140 unit showcases the efficiency, dependability, and accuracy that Nectar's bulk handling equipment has to offer. The NECU 1162 unit was commissioned back in January 2011 and since then has handled over 1,000,000mt with an additional 100,000mt in the last 12 months. As a manoeuvrable unit, it has been employed in various quayside locations across North, East and West Africa; specialising in packaging 25-50kg bags of argibulk and fertilizer. Today, 1162 continues to deliver the same performance as the day it was commissioned with proven operational flexibility, technology and build quality. Nectar Group equipment is support by our local and international highly skilled technicians.
Discover More About Nectar Bulk Handling
Argus Fertiliser Africa
Conrad Kunadu and Jack Hampson from our Nectar Group Worldwide Bagging team have recently returned from the Argus Fertilizer Africa Conference in Nairobi, Kenya. We would like to extend our appreciation to Argus Fertilizer Africa and Argus Media for organising this successful conference, insightful keynote panels and networking event. A wonderful opportunity to meet up with old and new partners and connections.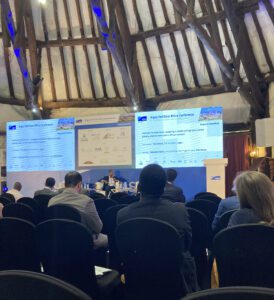 Nectar's Worldwide Bagging division continues to deliver state-of-the-art mobile bagging solutions and cargo handling equipment such as Bulk Hoppers, Conveyors, and Remote Release Grabs to our diversified global client base. Nectar Group is expanding its worldwide maintenance support programme for all bulk handling equipment, investing in new technologies, asset life cycle management, QHSE, and local training initiatives. We offer our clients unparalleled expertise in safely handling a wide range of sensitive agricultural materials, including high value combinable crops, fertiliser, feed, and supplements.
For more information. (+44) 1708 386555
conrad.kunadu@nectar.co.uk
Jack.Hampson@nectar.co.uk